Sarah Mackenzie
Association Services Coordinator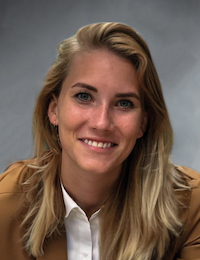 Meet Sarah, an accomplished individual with a passion for social justice and effective communication. With a double major in Human Rights and Communications, she possesses a diverse skill set that combines advocacy and the power of words.
Over the past decade, Sarah has dedicated their time and expertise to various communication and management roles, as well as non-governmental organization (NGO) projects, both as a professional and as a volunteer. Her invaluable experience in this field has allowed them to contribute significantly to improving the lives of marginalized communities and advocating for human rights.
When not immersed in their work, Sarah cherishes moments spent with loved ones. Whether it's hanging out with friends and family, enjoying the company of their rescue dog, exploring the great outdoors, or practicing yoga, they find solace and joy in these activities.
Originally from Canada, she made a life-changing decision in 2021 and now calls Amsterdam home. This transition has opened new doors and provided fresh perspectives, adding to her already extensive global outlook and cultural awareness.
With her knowledge, experience, and goal-driven personality, Sarah hopes to continue to make a positive impact on her journey with Status Plus B.V.